Most HD camera mounting solutions like those for the GoPro Session lock the camera to a specific angle on top of the drone. A mechanism to tilt an entire HD camera downward would be too heavy, or would likely push the center of gravity too far forward. My solution was to seperate the lens from the camera—in this case, a Foxeer Legend 3. By doing so, only the lens would need to be tilted. You might be thinking why not use a RunCam Split, or similar? In my opinion the image quality isn't comparable to a GoPro and I was not willing to compromise there. Ultimately I chose the Foxeer Legend 3 for the following reasons:
The image quality is better than a GoPro Session 5 (subjective: this is my opinion).
Form factor is flat, and and easy to work with.
Lens can be seperated from the camera, (it can be done, but consider your warranty voided).
Removable battery allows me to shed the weight, and run off the flight battery. (case and battery accounted for 40 grams!!!)
The results are a 'double-decker bus' style quadcopter frame, with the upper layer devoted to flight electronics and flight cam, and a lower 'sled' carrying a modified Foxeer Legend 3 with a modified special-order lens ribbon, and a custom micro-servo powered lens tilt mechanism. Camera display and settings are accessible through a cutout on the bottom of the craft (covered with transparent screen protector), and camera controls are accessible from the sides of the craft, all without removal from the drone.
Because of the stacked design, you can remove the HD Camera layer and fly fast and crazy, or keep it on and do some serious filming, including with the camera pointed straight down. I've designed the frame in a way that I can tilt from between +30 degress up to -90 degrees straight down—without the props ever entering the shot!
Thank you for reading this far. This is the first time I've ever designed something of this magnitude. I believe if I were to make a second version of the frame, shorten some wires, shorten the antennas and use an even lighter lighter micro servo, I believe I could shave off 10-30 more grams which would allow for a greater battery within the 250 gram limit.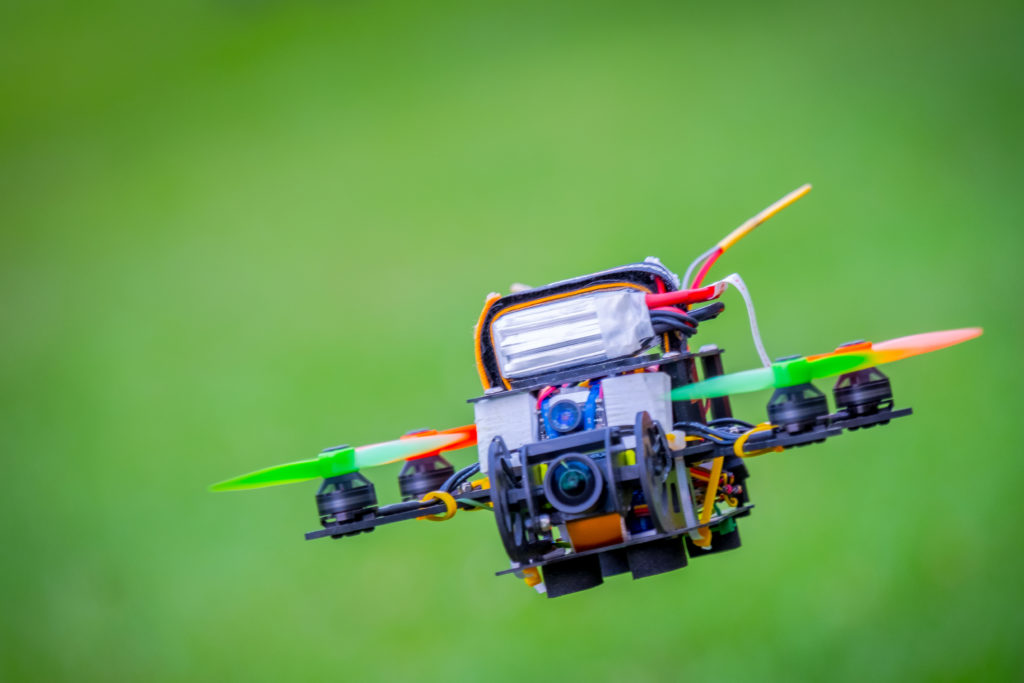 Build Specs
Frame – Custom (Filmstar 3″)
FC – FLIP 32 OMNIBUS NANO V2.5 (OSD + Baro)
ESC – Wave 4in1 ESC 4x10A (20×20)
Motor – RCX H1304 (4000KV)
Propeller – ZIPP33 – 3x3x3
Cam – Eachine TX03 (split)
VTX – Eachine TX03 (split)
RX – DEVO-RX703A
Batteries – Tattu 450mAh 3S (75C)
Cam Tilt – HXT500 Micro Servo
HD Cam – Foxeer Legend 3 (4k30)
More information below:
My personal blog and portfolio: https://www.quicksheep.com/filmstar-250g-quadcopter-frame/
To see a video of the lens tilt mechanism: https://www.instagram.com/p/BiQpf6eHJGT/
To see a video of the screen on the bottom: https://www.instagram.com/p/BiTew1yH040/
Johua Bardwell's thoughts on the Legend 3 vs Hero Session 5: https://youtu.be/bVR4Db8seaM?t=988